Helicopter > Helicopter mechanics "Python"
Helicopter mechanics SRM-T "Python"
Since 2009, the newly developed built-in helicopter mechanics SRM-T (Standard Rotor Mechanics-Turbine) "Python" have been included in the program.
The mechanics are specially designed for the powerful 2-shaft turbines "SPT5-H" from JetCat and "Taurus" from Pahl in connection with prototypical multi-blade rotor heads. In addition, versions for the Jakadofsky PJW turbines are also available.
A version for the ZG62SL petrol engine is also available under the name SRM-E.
In addition, various electromechanics are offered under the designation SRM-A.
All mechanical versions presented here have in common the bevel gear in a hermetically sealed oil bath. Only this can transmit the high performance of the drives safely and wear-free over the long term. The reduction between main and tail rotor is 1:5.
New in the 2010 version are the 15 mm rotor shaft in conjunction with larger bearings, delivery incl. 15 mm swash plate, sealing of all gear housing parts with O-rings, simplified conversion from left to right rotation, backlash-free freewheel, aluminum servo mounts for the 4-point linkage .
New in the 2015 version are the swashplates with a significantly larger diameter (only in connection with the 4-point servo linkage) with the swashplate holder with full ball bearings.
The two images shown below only show 2 versions of different designs available.
You can find some examples of RC helicopters equipped with our Python mechanisms in various designs in our
gallery
.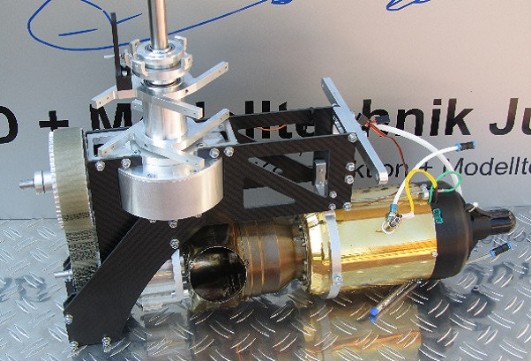 Version 12, with Pahl Taurus turbine below, exhaust possible in front of or behind the rotor shaft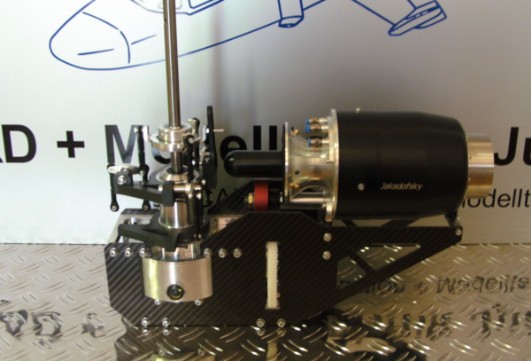 Version 3, with the PRO-6000 turbine from Jakadofsky arranged at the rear/above, exhaust to the rear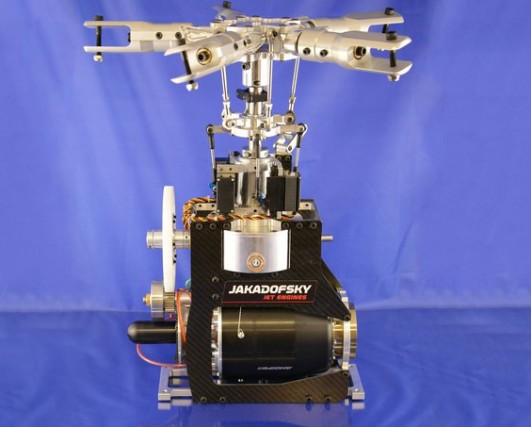 Version 7, with the Jakadofsky PRO-6000 turbine underneath, exhaust to the rear (or available as version 5 in the mirrored version, i.e. exhaust to the front - such as for the Mil Mi-24 "Hint"), the new, enlarged swashplate is mounted with the 4-point linkage and the 5-blade rotor head from LSZ. Also good to see is the full ball bearing swash plate holder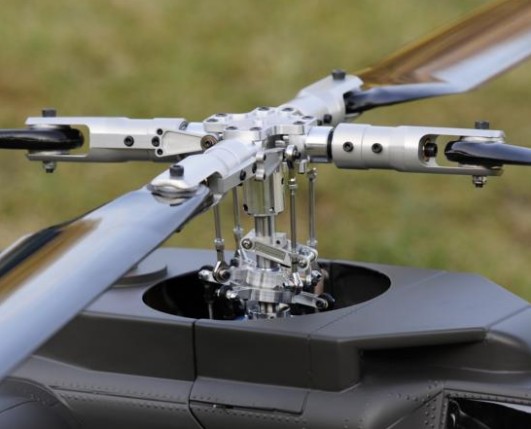 The newly designed swashplate in conjunction with the 4-point linkage, the swashplate driver with full ball bearings and the 4-blade rotor head from LSZ-Rotorkopf harmonize perfectly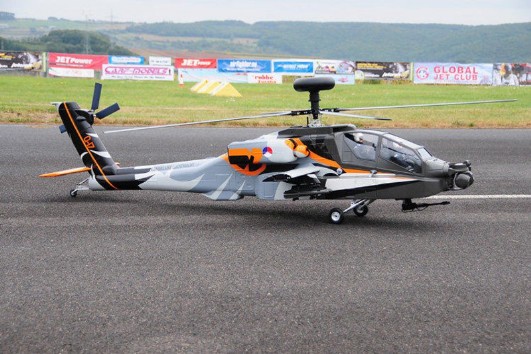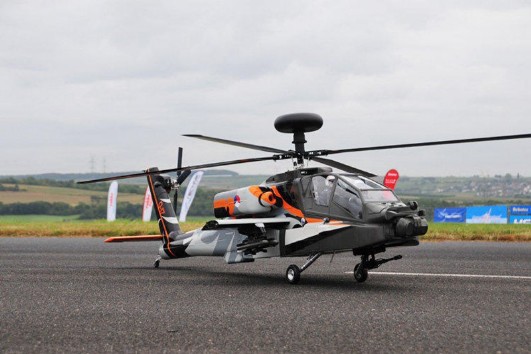 Here in the special livery of the Dutch Air Force for the 100th anniversary. This extraordinary model is powered by our Python SRM-T turbine mechanics with the single-shaft turbine PRO-6000 from Jakadofsky

Technical data
The special design features of the SRM-T "Python" helicopter mechanics at a glance:
mechanics special for scale helicopter models

very compact mechanics

rotor diameter up to 2.8 m

vibration-decoupled turbine output (with the 2-shaft turbines)

2-stage reduction gear to the main rotor

first stage via toothed belt or spur gear

second stage via completely encapsulated oil bath gear (hardened spiral-toothed bevel gear, reduction 1 : 5

all sealing surfaces are sealed with O-rings

tail rotor output that rotates with the autorotation

powerfully dimensioned auto-rotation freewheel

4 x 90° servo assembly

aluminum servo mounts

swashplate guide with multiple ball bearings

carbon side plates

swashplates in various designs for controlling 2- to 5-blade rotor heads

rotor diameter 15 mm (you can also get the right multi-blade rotor heads from us!)

tail rotor output 8 mm

nominal speed of the main rotor approx. 850 -1,050 rpm depending on the reduction

the direction of rotation of the main rotor can be selected to the left or right

installation of other turbine brands and turbine/rotor configurations possible on request


the swash plate driver is not included in the scope of delivery