Helicopter > Helicopter mechanics "Python"
Helicopter mechanics SRM-A "Python"
Many customers rely on the electric drive for their true-to-original scale models in order to avoid the high acquisition costs of the drive turbines. The electric drive also offers greater safety and a very low noise level when the model is in operation. We have developed the built-in mechanism Python SRM-A for this purpose and added it to the program. The Plettenberg "Predator Evo 25/8" electric motor is used as the drive (power up to 15 kW). A 25 mm wide toothed belt is used to safely transfer the extreme torque of the motor to the rotor shaft. The toothed belt is pretensioned using a special tensioning wheel.
The two images shown below show only one version of the various available drive motors and versions.
You can find some examples of RC helicopters equipped with our Python mechanisms in various designs in our gallery.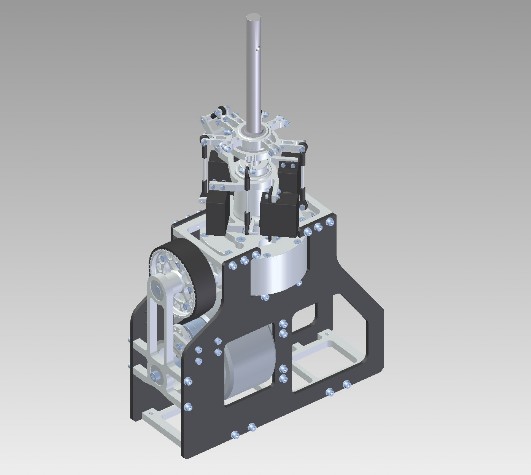 Mechanics Python SRM-A with the electric motor Plettenberg "Predator Evo 25/8"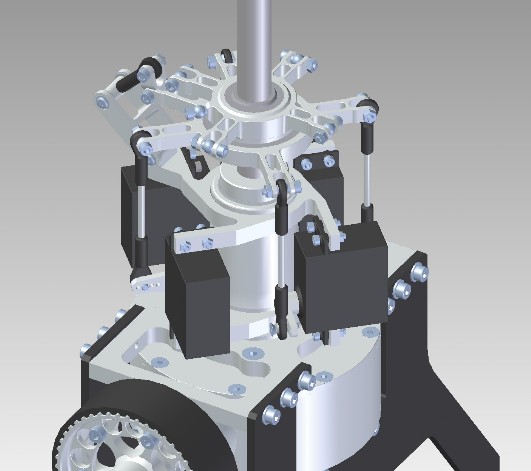 Representation in the CAD construction, you can see the new enlarged swashplate for the 4-blade rotor head of the Bell 429 with the swashplate holder on full ball bearings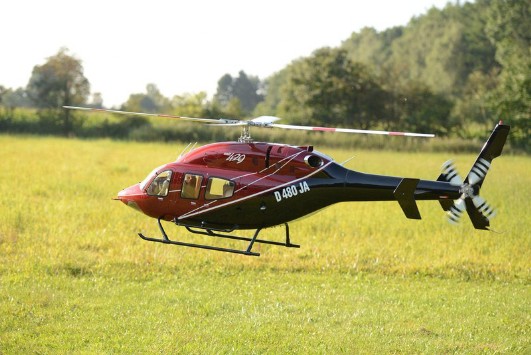 The new BEll 429 with a rotor diameter of 2.5 m from
Alterbaum Premium Helicopter
. This extraordinary large model is powered by our Python SRM-A electromechanics with the Predator Evo 25/8
Technical Data
The special design features of the SRM-A "Python" helicopter mechanics at a glance:
very compact mechanics for scale helicopter fuselages

drive motor Plettenberg "Predator Evo 25/8", power up to 15 kW

rotor diameter up to 2.8 m

2-stage reduction gear to the main rotor

first stage via toothed belt, incl. toothed belt tensioner

second stage via completely encapsulated oil bath gear (hardened spiral-toothed bevel gear, reduction 1 : 5

all sealing surfaces are sealed with O-rings

tail rotor output that rotates with the autorotation

powerfully dimensioned auto-rotation freewheel

4 x 90° servo assembly

aluminum servo mounts

swashplate guide with full ball bearings

carbon side plates

swashplates in various designs for controlling 2- to 5-blade rotor heads

rotor diameter 15 mm (you can also get the right multi-blade rotor heads from us!)

tail rotor output 8 mm

nominal speed of the main rotor approx. 850 -1,050 rpm depending on the reduction

the direction of rotation of the main rotor can be selected to the left or right

installation of other motor makes and motor configurations possible on request


the swash plate driver is not included in the scope of delivery